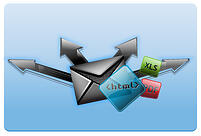 One of the more powerful functions of report scheduling for Crystal Reports is the ability to automate your reports on an event-driven basis. This enables you to generate reports and start processes based upon changes occurring, such as the editing of a file or database entry. This is the basis for automating processes right across your organisation to reduce costs and streamline operations.
Event-driven means that you schedule an action or sets of actions which you wish to be performed when a specific event occurs. The trigger event could be any of the following events: when a file is created, edited or deleted; when a database entry is created, edited or deleted; when a window is present; when a process exists; when an unread email is present or when data is received on a port. You can then schedule the creation and forwarding of a report to a list of business users in the format that they require and to the device they wish. You can also schedule the start of a process or series of processes.
Using event-driven scheduling you can now automate an entire range of processes right across your organisation. Any process which occurs on a regular basis and follows a regular pattern has the potential for automation. There are no doubt a great many administrative processes which your staff members currently perform which could benefit from automation. The benefits to your organisation are multi-faceted. You will reduce your costs from staffing as the process will no longer have to be carried out repeatedly, just set-up once. This will free up your staff members to dedicate their time and effort to tasks which will add genuine value to the organisation. You can also remove the possibility of human error occurring, which could lead to processes being performed incorrectly which could potentially lose revenue, increase costs or damage a relationship with a customer.
An example of a set of processes which could be automated is when an order is received from your customer. This can be identified as the event which triggers a series of other actions. When the order is received a report such as a packing slip will be generated and forwarded to your warehouse. This in turn can reduce the stock levels in inventory, place an order for a replacement product, or for components or raw materials to produce more products, invoice the customer and schedule delivery of the product.
This form of process automation can be replicated right across your organisation from finance, to human resources to purchasing. Using the unread email function you can even start processes just by sending an email. You can design email templates which the system can analyse for certain text or values and update a database in response, which can trigger another series of actions.
ChristianSteven Software's Crystal Reports Distribution is report scheduling software which features event-driven scheduling as one of its key selling points. It will help you to automate processes right across your organisation to optimise your operations.
To find how how ChristianSteven Software can help your organisation to automate its operations sign up for a free demo and set-up configuration of your free trial software today.