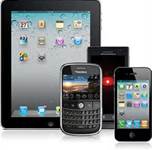 In a study released today by Gartner Research, 38% of companies predict they will stop providing devices to their employees by 2016. This represents a significant change in the role of IT in organizations, as they shift away from supply and maintenance of prescribed hardware, and focus more on data protection and enterprise applications which can operate on a wide range of employee-owned devices.
The survey revealed that mid-sized and larger companies, those with $500 million to $5 billion in revenue and with 2,500 to 5,000 employees, were leading the charge in adopting of BYOD practices. Smaller companies are not very far behind however, as they are embracing the cost savings and enhanced connectivity that can be gained from allowing their employees to bring their own mobile phones and tablets to work.
The BRIC countries were found to have the highest rates of BYOD, with Brazil, India and China at the head of the pack. Companies in the United States were also moving rapidly toward acceptance of the practice, almost twice as fast as their European counterparts.
On the issue of subsidies, the instances of companies covering the entire costs of both acquiring the hardware and paying the monthly service fee are few and far between. "The enterprise should subsidise only the service plan on a smartphone," said David Willis, vice president at Gartner. "..Better to keep it simple. The employee owns the device, and the company helps to cover usage costs."
Mr. Willis also went on to echo the advice we previously provided in our post Tips for Making BYOD Work at Your Company, "It is essential that IT specify which platforms will be supported and how; what service levels a user should expect; what the user's own responsibilities and risks are; who qualifies; and that IT provides guidelines for employees purchasing a personal device for use at work, such as minimum requirements for operating systems."
If your company is moving toward a BYOD policy and are interested in its applications for business intelligence you can start by checking out our post on Scheduling Reports to Mobile Devices.