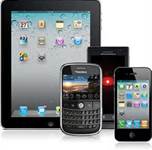 In our Business Intelligence Issues for 2013 we identified mobile as one of the key areas that would impact upon the world of business intelligence this year. Following up on this prediction we are going to address some of the benefits which can be gained from mobile devices, allowing your employees to bring their own devices to work and incorporating their devices into your report scheduling.
As we are all aware the capabilities of mobile devices have increased dramatically over the past five years, as have their intractability from most peoples' lives. The increases in screen and interface technology, coupled with the explosion in functionality driven by the app sector have made mobile devices ubiquitous in most home, social and work environments. Workplaces, unfortunately, have lagged in their adoption and capitalization on the benefits which can be gained from embracing mobile.
A major stumbling block has been companies' reluctance in allowing their employees to "bring your own device" (BYOD). Many companies have been concerned with the security implications of such practices, and not without reason. The pros seem to be outweighing the cons at the moment, with 44% of users in mature markets engaging in the practice. Allowing your employees to bring their devices to work has several advantages:
Lower hardware costs for the company.
Avail of up-to-date technology.
Increased morale.
Increased productivity as employees configure their optimum toolset.
When your employees are using mobile devices at work it increases your ability to provide them with actionable information when they are away from their desks. Your sales team could be provided with lead reports each morning, or during the day to their mobile devices, so they don't need to find a wifi connection when they are meeting with clients or on the road.
For employees involved with fieldwork such as engineers or geologists, you can schedule reports for forwarding current data to their devices when they are performing evaluations or inspections. Similarly, managers in large manufacturing factories, warehouses or utility plants can receive up-to-date information as they tour their facilities. You could even schedule reports to your executives' tablets just prior to meetings so they have the most current data to discuss.
To see how to schedule reports to your business users's mobile devices, get a demo and trial installation of one of ChristianSteven Software's report scheduling products.