A combination of BI and social media analytics and social media analytics provides businesses with remarkably functional information such as search habits, customer demographics, and social behavior. This information is extremely useful for expanding revenue opportunities, driving marketing efforts, promoting brand awareness, and generating leads.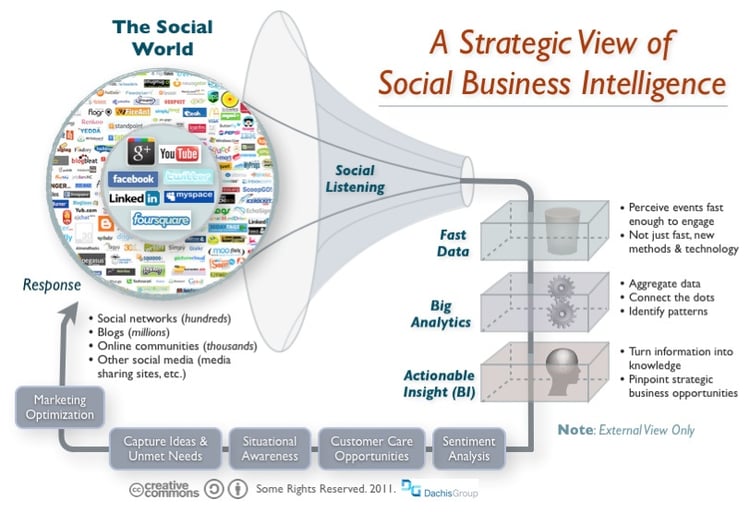 Social media plays a chief role in the way top businesses are utilizing the power of Business Intelligence tools to positively impact their customers. Although you can gain very important information about your customers from social media, it is practically indecipherable analytically without BI.
Incisive Analytics and Intelligence
BI technologies possess the ability to collate, scrutinize, and report on data. This data comes from blogs, discussion boards, forums, and social media. This data produces insightful information such as:
Is there a single post that has more likes than others?
Who is talking about my business?
How often are they talking about my business?
What aspects of my business are they talking about?
What are follower's voicing their opinions about?
What comments are getting the most likes?
The answers to these questions about your business via social analytics can help you establish the critical steps of your next marketing strategy. With business intelligence gauging social media analytics, you get in-depth reporting in real time. This is invaluable to a business in the world of social media.
Data at Your Fingertips
The marketing staff does not want, nor should they have, the responsibility of building a new BI dashboard to track the performance of the business's Twitter feed and compare it to the Facebook likes, shares, and comments and the company's YouTube channel. Marketers want a real-time dashboard that yields traditional data views.
The main social media platforms have accessible APIs; therefore, plugging into your BI tool is simple. With this method, marketers can have all their social channel performance in one place and accessible with one finger.
Making BI and Social Media Work for You
If your company is considering investing in BI for social media marketing, choose a business intelligence solution that is flexible, easy to use, and expandable. Also, verify that it is able to quickly analyze external web-based data sources.
BI makes it possible for businesses to create their advertisements and marketing campaigns around a targeted audience by the behavioral patterns on social media. This type of intelligence is immeasurable in the business world. ChristianSteven Software provides all of the analytical tools and software you need to gauge your social media traffic and engagements and make them profitable for your business.