A new year always means new problems. In light of this, we decided it was time to take a step back and re-evaluate what we already knew about C-level executives' needs vs. what we might discover from a survey. We thought "what a better time than now to survey more than 500 international C-Level executives to reveal their top priorities, concerns, and expectations of the technologies that are driving their business decisions across industries today"?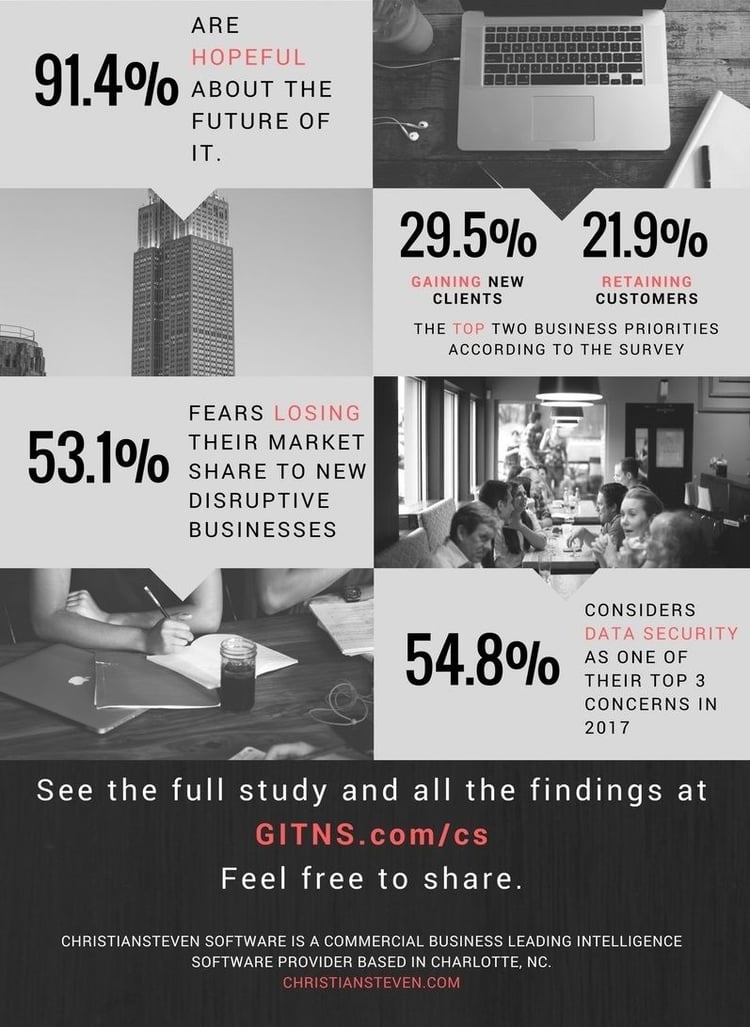 After we closed the survey we discovered that nearly half of C-Level executives are concerned about a disruptive company entering their industry and cutting into their market share. Our CEO here at ChristainSteven Software, Christian Ofori-Boateng, had the following to say about our survey results:
Our study allowed us to take a close look at the business and IT concerns that top executives are focused on, allowing us to provide the best BI reporting. We learned that even during these times of political and economic uncertainty and technology, American and European executives are cautiously optimistic. Some fear competition from a new market disruptor or automation, but most are hopeful about the role technology will play in their businesses moving forward.
Now that you've heard from our CEO, you might by wondering "What is ChristianSteven Software, and why are they conducting this type of survey?" Great question! Allow me to give you a little more detail on what we do here:
We are a Business Intelligence software provider based in Charlotte, NC. Since our company launched in 2002, and our mission has always been to provide companies with the best possible Business Intelligence solution at a fair and affordable price. With more than a decade of experience working with over 1,000 CIOs, we can confidently say that we provide unmatched Business Intelligence solutions that CIOs not only want but need. Pretty cool huh?!?
Some findings from our ChristianSteven Software BI Report include:
51.4% of executives surveyed rate gaining or retaining clients as their top business priority for 2017
Over half of respondents (59.1%) are not concerned that increased automation will threaten their business
91.4% of C-level professionals surveyed are hopeful about the future of technology in their business
Now let's shift to the Biggest IT Concern in 2017:

Source: GITNS.com for ChristianSteven Software
46.5% Security

- Protecting internal data and client/customer information

30.2% Information

- The world of technology and big data seems to change daily, and staying up to date is as important as it is difficult.

23.3% Automation

- My business fills a need that I fear may become automated, making our business model obsolete.
Security
Who would want a solution that they couldn't trust? Data should be your greatest asset, which would make Information Security the very first thing you look for when deciding on a BI Solution:
Does your solution restrict report parameters?
Encrypt the report output? Require authentication before report access?
Apply an expiration date?
Ours does! Your BI tool should be both flexible enough to allow authorized individuals to access it from anywhere and advanced enough to include a comprehensive audit system that tracks and records every user and system action.
Information
What good is information if it isn't up to date? Being able to pull the right information at the right time is key to a company's success. I'm sure, like most organizations, you have accumulated a multitude of applications across your various lines of business. Make sure that your BI solution can communicate across all your systems and will also allow you to make 'on the fly' changes that will help you and your company avoid the expensive pitfalls of inconsistent and missing data.
Automation
BPA (business process automation) is the tool that streamlines and automates key processes that play a vital role in driving the value of your organization. It also comprises integrated applications including report distribution, system monitoring, and workflow software. Having BPA in place will help reduce labor costs wherever possible and make the business operation function faster and easier! Our Business Intelligence software, IntelliFront BI™, not only comes with BPA as standard, but is easy to use, is cost efficient, and offers real-time dashboards, KPIs, and Data Driven Subscriptions (just to name a few)!
The diagram we just reviewed is only one out of six diagrams from our infographic.
Are you facing one of these issues?
Do you already have a solution in place that makes these concerns irrelevant for your company, but have other

business intelligence

issues?
Let's talk! Send me your feedback and let's see how we can help each other in this ever changing technology world we live in!