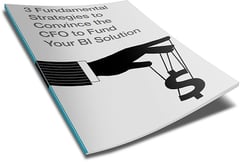 As your organization's primary technology advisor you are up to speed on the latest and greatest BI solutions, but
Do you walk out of your executive strategy meetings thinking it's Ground Hog Day?
Does your CFO nod in agreement that you need a BI strategy yet say, "no" when it comes to funding it?
Do you know how to articulate the value of Business Intelligence solutions from a CFO's perspective?
What really matters to your CFO and why?
In this eBook you will discover 3 fundamental strategies you can use to convince your CFO to not only fund your BI strategy but, most importantly, champion it.