You are just minutes away from being able to harness the most easy-to-use BI solution for running a KPI-driven business. Some key features you can access right away: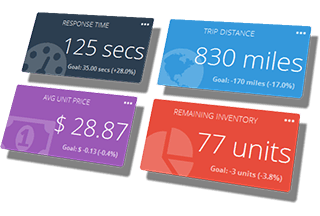 KPI creation and tracking: set-up new KPI's with an intuitive tool that lets you specify datasets, columns, goals, units, functions, appearance and more.
KPI dashboards: embed your updated KPI trackers directly in your dashboards and reports to drive insight, action, and iteration.
Easy To Use: Even the least savvy user should be able to quickly deploy, manage, schedule and view reports
Scales With You: Pricing should flex with your needs & insist on a trail with measurable value within 30 days
Secure Yet Accessible: Those authorized to access your invaluable company data should be able to do so from anywhere
Find out how easy it is to get started setting up, tracking and sharing your KPI's across the organization. Get started today!