Get ready to leverage the power of Power BI combined with centralization and fine-tuned access control. By using IntelliFront Dashboard Reporting Software with Power BI you get the following additional features benefits: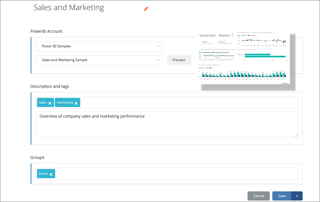 Access all the features of Power BI through an on-premise browser interface.
Add as many new Dashboard Reporting viewers as you need as IntelliFront users without needing to add new Power BI licenses for each viewer – saving significant licensing costs for high viewer count scenarios
Ability to add fine-tuned roles and permissions to control who can access the dashboards and what they can see
Cover any Dashboard Reporting scenario, from executives to employees to partners to customers, create your dashboards once and publish them anywhere
Build automation routines through IntelliFront's business intelligence features so that you never miss an insight by not logging into the dashboard – insights come directly to you when you need them
Get started now and begin seeing the benefits of Power BI combined with automation, centralization and access control for different dashboard audiences.