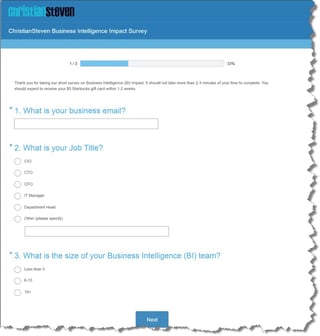 This is a short 10 question survey which will help us to get a better understanding of your Business Intelligence needs. We will use this imformation to update our existing BI solutions and build new ones in the future.
The survey is conducted on three different pages. After you fill out the questions click the 'Next' button to go to the next page. The survey is not completed untill you click 'Done' on page 3.
Your name and organization will be kept confidential. For your participation you will receive a complementary $5 Starbucks gift card.
We really appreciate your input!