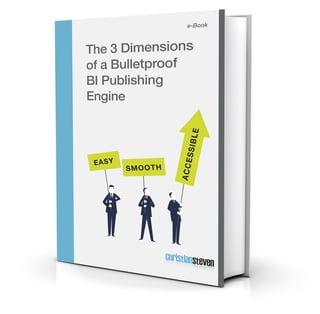 Manually managing hundreds even thousands of reports from different systems with different protocols and formats is nearly impossible. You're constantly running into administrative bottlenecks when trying to pull 'one off' reports or effectively manage a BI process failure. Chances are if you actually tallied up the costs associated with operational inefficiency and basing strategic decisions on partial information the sum total would be shocking.
This eBook will discuss:
What are the 3 Dimensions needed for a Business Intelligence solution?
What makes for a bulletproof BI publishing engine?
What BI capabilities pull it all together
We'll explore the three dimensions required of a publishing engine capable of transforming your business and solving your Business Intelligence publishing puzzle once and for all.