Power Automate and PBRS do not work in the same way. Primarily, Power Automate exports Power BI reports and emails them. PBRS does a lot more.
Power Automate exports standard Power BI reports and emails them. Typically, you can export one report per email.
For Paginated Reports, Power Automate gives you the ability to export the reports to email, a local folder, Sharepoint, Onedrive, and Excel Online. Microsoft is evolving these capabilities on a regular basis.
PBRS, on the other hand, can export paginated and standard Power BI reports to multiple formats including PDF, Excel, CSV, Doc, Tif, HTML, and more, and deliver these to many destinations including email, folder, printer, fax, FTP, Slack, Google Sheets, Sharepoint, and more.
Power Automate is reliant on Microsoft's Export-To-File API. This comes with a number of limitations. PBRS does not use this API and so can perform better. Here is a short comparison of the Export-To-File API vs PBRS.
PBRS comes "out of the box" ready to export standard and paginated Power BI reports. You can send single reports, or multiple reports in the same email (Package Schedules), use Data-Driven Schedules to drive mass export and delivery with minimal administration, and more.
But that's not all. PBRS doesn't just do time-based scheduling. It can monitor a database or a view in your organization and trigger reports when an event has occurred.
It is impractical to provide a side-by-side comparison of Power Automate and PBRS because Power BI report scheduling is a tiny subset of Power Auomate's huge and comprehensive capabilities, whereas Power BI report scheduling is the main focus of PBRS.
At ChristianSteven, we have spent 20 years developing report scheduling solutions for various reporting platforms and we have put all of this knowledge and experience into PBRS. PBRS includes many "bells and whistles" that simply do not exist in any other Power BI Scheduling software.
For example, for email functionality, here are just some of the main capabilities that will be available to you: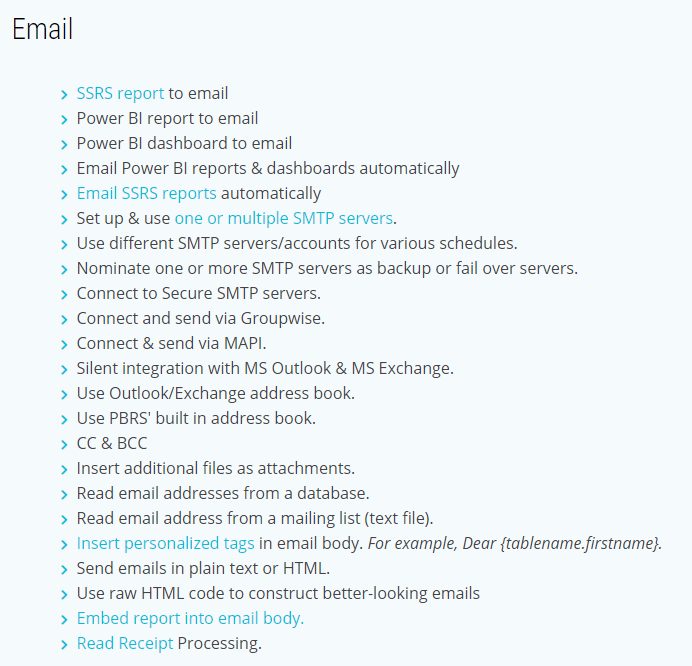 Finally, it is worth noting that Power Automate requires a Power BI Premium Capacity license. PBRS will schedule reports for non-capacity users and also PPU users.
For more about PBRS, please visit the product page here.