PBRS - The #1 SSRS & Power BI Report Scheduler
PBRS™ is an intuitive software product that saves time & money by making it easy to deploy date, time and event triggered scheduling of your organization's Power BI and SSRS Reports.
PBRS works seamlessly with Power BI Service (Pro & PPU), PBiRS (Power BI Report Server - On Premises), Power BI Premium, and all editions of SQL Server Reporting Services (SSRS).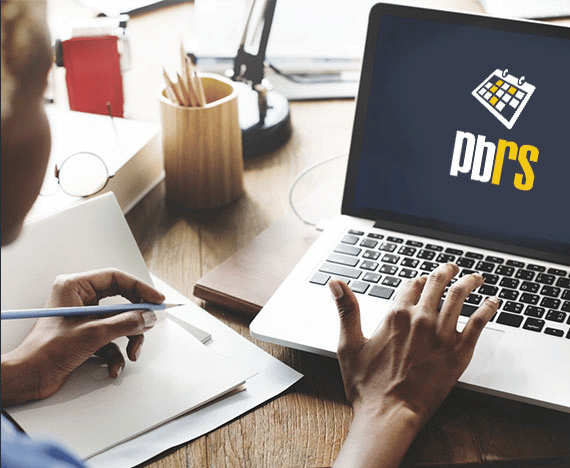 Want to deliver Power BI reports by email as PDF file attachments?
That's a standard capability of PBRS, right? Yes, but consider this. While doable, the IT Security advise of "Never open a PDF and never click on a link" puts the PDF open rate down around 50%. So, why not export each recipient's customized report as html or image embedded in the email body? This will bypass any firewall rules on attachments, any IT rules on PDF clicking, and increase the view rate significantly - all without human interaction.
Find out how the comprehensive functionalities and features of PBRS can solve your BI delivery showstoppers.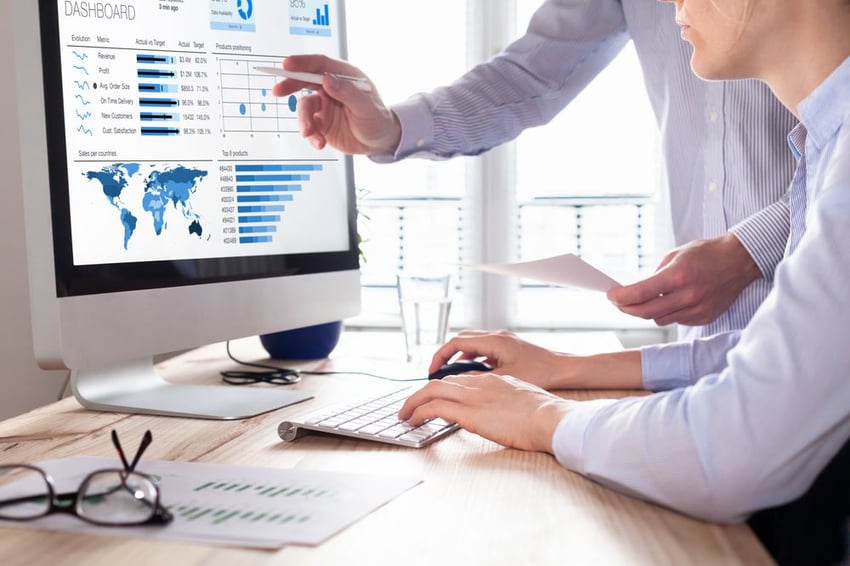 How about delivering Power BI reports as formatted Excel documents?
We know what you're thinking: Paste a screenshot of the Power BI visual into an Excel workbook, right?
Yes, PBRS can do that. But, why not export the summary or underlying data into an Excel spreadsheet - with formatting? Why not add row and/or column totals to make analysis easier for your recipients? How about exporting the data from multiple visuals as individual tabs in the same workbook? Why not password-protect the workbook before it is delivered?

Find out how the comprehensive functionalities and features of PBRS can solve your BI delivery showstoppers.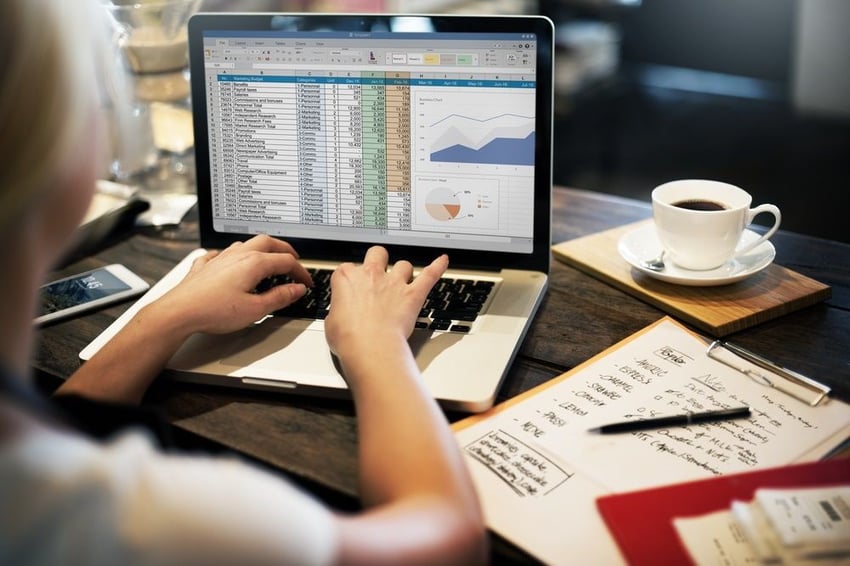 So many questions, so little time.
Frequently Asked Questions
Browse through a dozen of the most frequent questions we are asked.
Questions About Security
Does ChristianSteven store my data?
No. PBRS is an on-premises solution and will be installed on a server in your environment. The software's database is stored on that server, or in an instance of any enterprise SQL Server database you already manage on site. So ChristianSteven is not involved in storing, nor will we have access to, your data.
Is the PBRS database stored in-house or in the cloud?
PBRS is an on-premises solution and will be installed on a server in your environment. The data is also stored on that server, or you can choose an instance of any enterprise SQL Server database you already have. So any information entered into PBRS will be stored in-house.
If we stop being a client, will ChristianSteven keep/store our reporting data?
No. PBRS is an on-premises solution and will be installed on a server in your environment. The reporting data is also stored in your infrastructure. So ChristianSteven will not have access to any of your reporting data. We never keep it, and we never store it.
How does user-level data security work with scheduled Power BI reports?
When connected through a Power BI account, user-level data security as defined within Power BI for that user will be inherited.
There is no user-level security for the report recipients. Simply create filters in the Power BI report to limit the data that will be visible in the export file e.g. PDF. This is done in PBRS as part of the schedule setup process. Filter values are stored applied at run-time.
Does ChristianSteven have access to my datasets in Power BI?
No. PBRS only connects to Power BI to run and export reports. Even though you can trigger a dataset refresh with PBRS, it has no access to the dataset(s) behind the report.
Can I use PBRS without registering it in Office 365 or Azure?
No. We are so passionate about data and application security that we have ensured that the software complies with Microsoft's, and your organization's, strict security requirements.
We know that waiting for your IT security team to register the app for you may be tedious, but we know that it is a wait worth having.
Back to top
General Questions
Does PBRS use the Power BI ExportToFile API? If so, is it bound by the same limitations?
Power BI's ExportToFile API allows the export of Power BI Reports to file using a rest call. The process of exporting a file is deceptively simple and consists of 4 steps:
The limitations (insurmountable hurdles), though, are many. For this reason, we have designed our own proprietary method of exporting files. Our method does not use the Power BI ExportToFile API so PBRS is not subject to its limitations. Here is a breakdown of the major limitations of the Power BI API:
Power BI API

PBRS

The report you're exporting must reside on a Premium or Embedded Capacity Node.

Reports may reside in Power BI Service with or without a Capacity Node

The dataset of the report you're exporting must reside on a Premium or Embedded capacity.

Datasets may reside in Power BI Service with or without a Capacity Node

The number of Power BI report pages exported per hour is limited to 50 per capacity

The number of Power BI report pages exported per hour is limited to the peak renders per hour that your Power BI License allows

Exported reports cannot exceed a file size of 250 MB

There is no limit to the exported report file size. Additionally, PBRS gives you the option to compress PDF files and/or zip them before delivery.

The number of pages that can be included in an exported report is 30. If the report includes more pages, the API returns an error and the export job is canceled

There is no limit to the number of pages that can be included in an exported report.

The Power BI visuals listed below are not supported. When a report containing these visuals is exported, the parts of the report that contain these visuals will not render, and will display an error symbol.

Uncertified Power BI visuals
R visuals
PowerApps
Python visuals
Visio

There is no limitation. PBRS is WYSIWYG (What You See Is What You Get).

Concurrent requests refer to report pages. For example, 20 pages in one export request on an A6 SKU, will be processed concurrently. This will take roughly the same time as sending 20 export requests with one page each.

Concurrent really means concurrent. PBRS not only exports multiple pages concurrently, but also exports multiple reports concurrently. For example, if you have 10 reports and each report takes 10 minutes to complete then the total time for all 10 reports will be 10 minutes because the reports will be rendered in parallel.

The number of concurrent report page requests is limited as shown in the chart below:

There is no limitation.
Does PBRS schedule reports from Power BI On-Premises Server (PBIRS) as well as Power BI Cloud?
Yes. PBRS will schedule reports from all the following sources:
Power BI On-Premises Report Server (PBIRS)
SQL Server Reporting Services (SSRS) on-premises and in the cloud
Power BI Service (Cloud, Azure & Embedded)
Power BI scheduling only allows single report pages in an email. Can PBRS schedule multiple report pages?
Yes, PBRS will export all the pages in the report. You can also specify one particular page or a page range.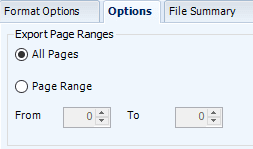 Can I export a Matrix, Visual or a Table from Power BI as an Excel document WITH formatting?
Using PBRS you can export the summary or underlying data of the matrix or visual to XLSX or CSV. Both can then be opened in Excel or read by other applications for data import.
Excel Export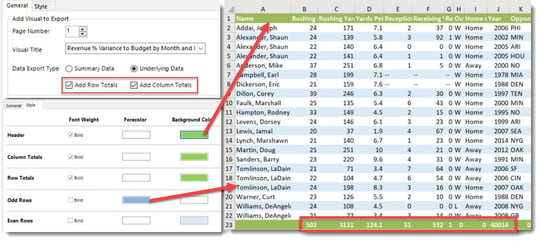 When using Excel, the exported document will not look exactly as your matrix does on screen. Microsoft has not yet provided an API or a method for third-party applications like PBRS to reliably export matrix/table visuals as matrixes/tables with all rows and columns exactly as on the report. For this reason, this capability is not available in PBRS at this time. We will put it in as soon as Microsoft releases that capability. Until then, organizations are using the work-arounds that are available in PBRS today.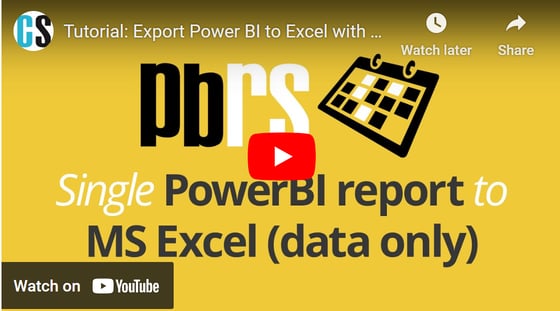 However, if you are using Power BI Premium, you can write a Paginated Report showing the exact matrix/table as you have in your regular Power BI report and PBRS will export that exactly as on the report. PBRS can schedule paginated reports in the Power BI service as well as on-premise. Many of our clients are choosing to use this method at this time.
CSV Export
CSV export has no formatting. PBRS will export the data and apply your chosen delimiter e.g. comma, space, semi-colon and so on.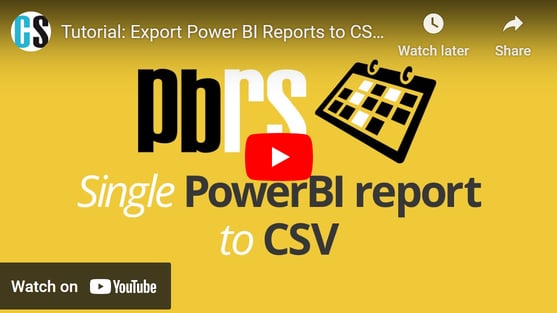 Limitations
Microsoft has placed a number of limitations that apply when exporting data from visuals. PBRS is subject to these limitations too when exporting to Excel or CSV. Click here to see the limitations document.
Note: These limitations do NOT apply when Paginated Reports are exported to Excel.
Can PBRS export 1 report over and over again with different filter values (pulled from a database) & deliver to different recipients (also pulled from a database)?
Yes, you can do this using PBRS' Data-Driven Schedules. A data-driven subscription for Power BI (and SSRS) allows you to drive all variables of your reporting requirements (filters, destinations, output formats, etc.) from database tables and queries at runtime. You can also use static text and default values should you wish.
You can use Data-Driven schedules for a number of scenarios. Use a data-driven schedule for bursting reports based on filter values to specific formats like PDF, Excel and so on. Examples:
Distribute a report to a fluctuating list of recipients. For example, you can distribute a report throughout a large organization where recipients vary from one month to the next, or use other criteria that determines group membership from an existing set of users. E.g. select * from mytable where firstname = 'john' will generate the report and distribute only for records where the recipient's first name is John.
Filter the report output using report filter values that are retrieved at run time. For example, the filter value returned from the table for the Last Name will be "Doe" for John Doe and "Smith" for John Smith.
Determine the delivery type and report format dynamically at run time. For example, John Smith gets the report as a PDF file by email with a customized email body and John Doe gets the report as an excel spreadsheet by FTP upload to his web server.
How does PBRS compare to its competitors on price?
Price comparisons are a great way to evaluate the ROI you will get from your investment.
It is common to use the first-year subscription cost of software as an absolute comparison metric. However, doing it this way will not give you the complete picture. In fact, the likely amount of time Enterprise software is active in an organization is 5 years. So, by looking at the total 5-year cost, you can better compare, not just with other subscription software, but also with software that is sold on the "licence + annual maintenance" model.
It is also common to use the "number of users" as a comparison measure ("What is the price per user?"). While this is great for comparing like-for-like software, you should look deeper into your company's requirements.
What functionality is currently offered?
How does the software handles data security?
What are the future planned capabilities and potential lifespan?
Can this software grow with you? Are the software's capabilities going to grow over time?
In most cases, the ideal candidate will not be the cheapest, but the one that fulfills your organization's current and future needs at a reasonable price.
Capabilities & Functionality:
Like its competitors, PBRS schedules and sends Power BI & SSRS reports by email, allowing you to use just 1 Power BI or SSRS license for report generation and distribution. However, unlike its competitors, PBRS offers the following capabilities. The list is not definitive:
Exports and delivers to email, network folder, Printer FTP, Sharepoint, Slack, Google Sheets & Dropbox.
Allows the encryption and password protection of PDF files and Excel files before delivery.
Exports underlying & summary data to Excel & CSV. Other competitors simply insert a snapshot of the visual into an Excel file.
Schedules and exports SSRS reports. Other products focus on SSRS or Power BI reports. PBRS gives you both.
Includes a workflow engine to create and manage data automation in your business, or use it to take some actions before a report is exported (e.g. refresh a dataset) and after a report has been exported (e.g. send an email, update a database).
Includes Data-Driven schedules, similar to SSRS Data Driven Subscriptions, but without the need to have a SQL Server Enterprise license.
Includes Event-Triggered scheduling (e.g. send the report if a database record is created, or has changed.
Example uses are: if a deal is closed, a new order is created, a contact's status changes, a record is deleted, a file exist, etc).
Is all-on-premise software. There is

no

cloud-based processing. It installs and processes reports exclusively on your server so your data never leaves your organization.
Is not priced by the number of processors on your server. You can have as many as you want.
Allows for multiple installations on a single license.
Users
Unlike its competitors, all editions of PBRS come with unlimited users. So whether you need a single user today, but will expect to increase to 100 in a year, or you already have 100 users, your purchase covers you. You don't have to go through the onerous administration of adding and removing users as your business changes over time because the ongoing costs are not based on the number of users.
Back to top
Ongoing Updates
Latest Releases
PBRS is continuously updated to ensure compatibility with all Power BI and Windows Server updates. And to add new capabilities too!
Great User Experience
Don't just take our word for it
Read what PBRS users say about their experience.