Dashboards can be created and edited via the workshop menu. In this section, you can learn how to create each visual in Dashboards.
Reporting - Dashboards
Dashboards can be created and edited via the workshop menu.
Go to Worskshop and select Reporting.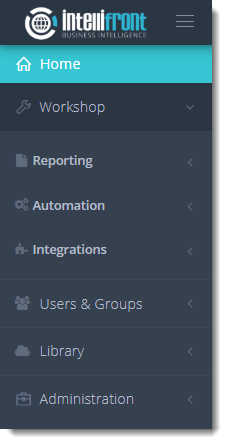 In Reporting, select Dashboards.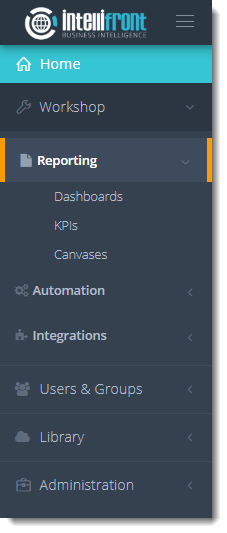 Or select Dashboards from the card on the home screen.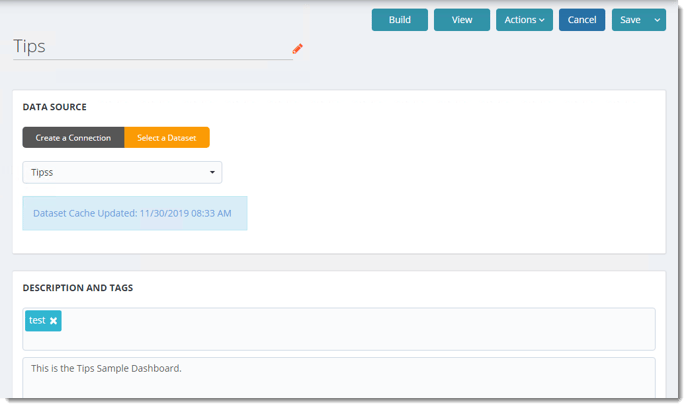 Add Name: Give the Dashboard a unique name.
Click the checkmark next to the name to save the name and to begin creating the Dashboard.
Data Source
Create a Connection: Choose the type of database you are connecting to e.g. Oracle, Microsoft SQL Server. Then complete the login credentials.
Select a Dataset: Choose a dataset from the drop-down list.
Datasets must have been set up within the library before they appear here.
Description and Tags
Tags: Tags are optional and make it easy to categorize dashboards, e.g. if you want to create a Tag called financial for all financial dashboards.
Description: Descriptions are optional but they can be used to explain what the dashboard shows.
Groups
Use groups to determine which groups of people have access to which dashboard.

Act Menu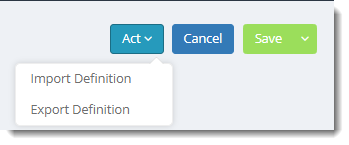 Import Definition: This can be used to import a Dashboard definition so that the design is already there.
For more information about import dashboard definition, click here.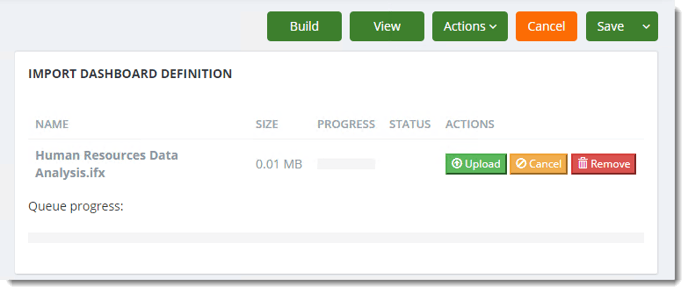 Export Definition: This is used to share dashboard designs between teams in your organization.
Save Menu
Save and Close: Save the Dashboard and returns you to the Dashboard main page.
Save and Create Another: Save the dashboard and create another dashboard.
When the dashboard has been saved successfully the following message will appear.

All Saved Dashboard will appear on the main dashboard home screen.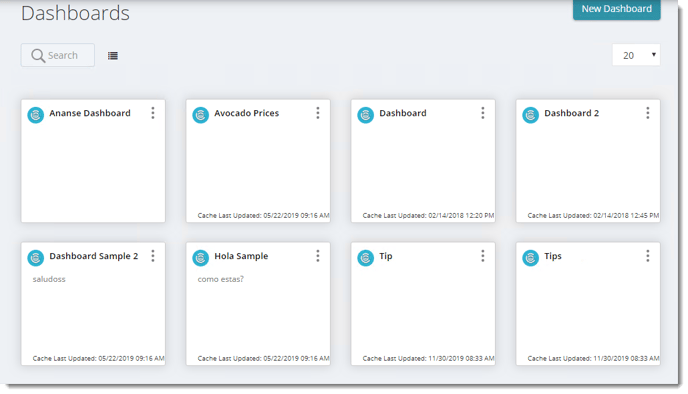 Dashboard Context Menu
Use the (…) option to Edit, View or Delete the Dashboard.
Creating a Dashboard
Once you selected a Dataset for your dashboard, click Edit Dashboard.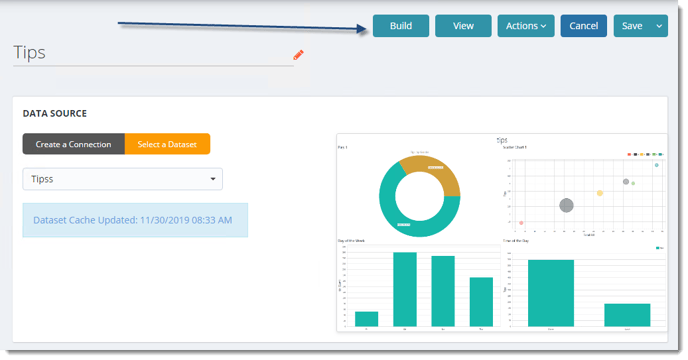 Decide on which type of graph best suits the data you are going to be reporting on.
In this section, it is recommended to know what is the exact data analysis you want to demonstrate. We recommend asking questions and answer them with the chart.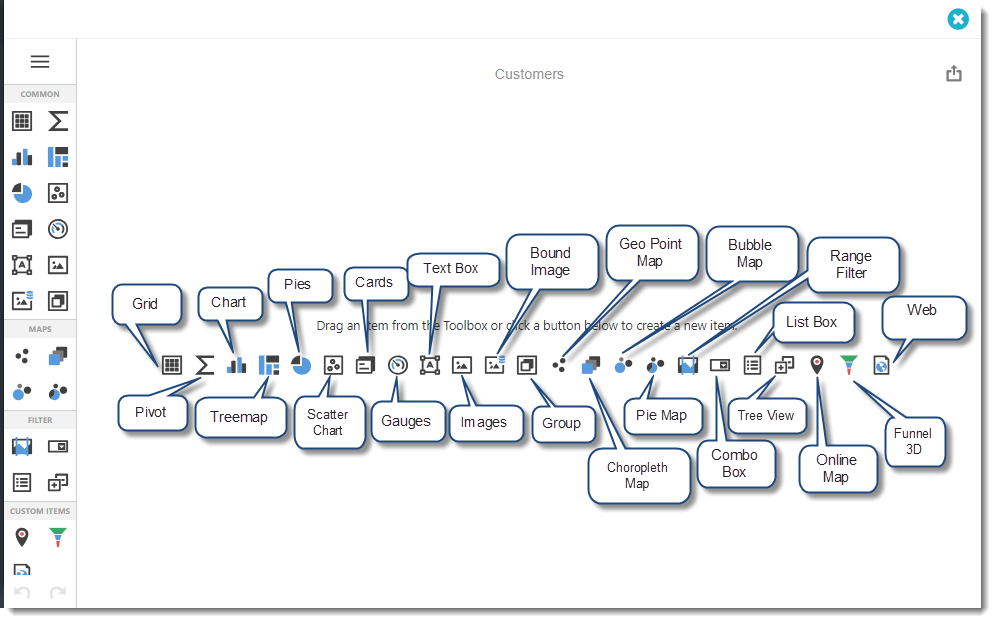 Click on the Visualization data you would like to use.
To manage each visual:
Other Functionalities:
Viewing a Dashboard
Once a Dashboard is created, click the View button on its context menu.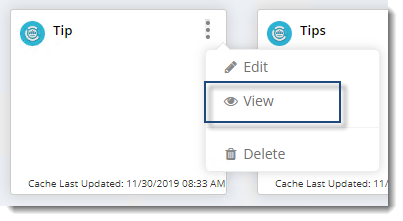 It will open a new tab with the Dashboard.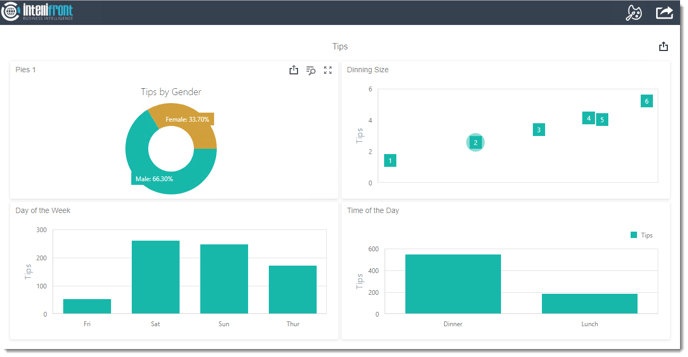 Set Theme
Click Set Theme button to change the dashboards theme.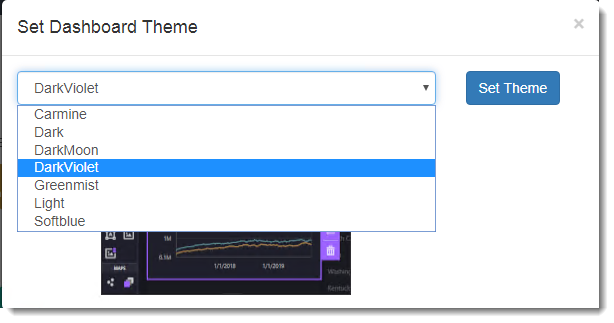 Select a theme using the drop-down menu and click Set Theme.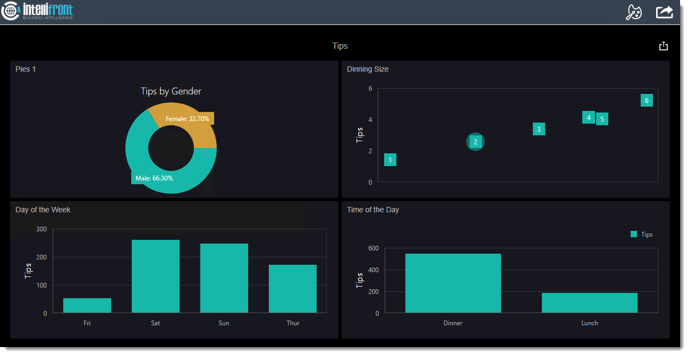 Share a Dashboard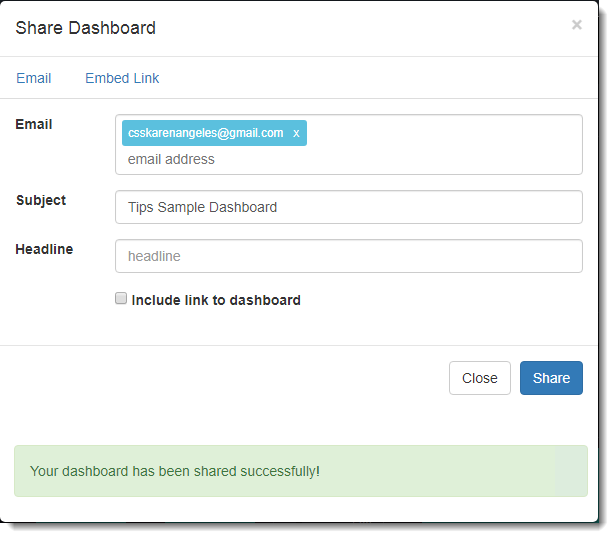 Email: Enter the email address to share the Dashboard.
Subject: Enter a subject for the email.
Headline: Enter a headline for the email.
Include link to the dashboard: Check this option to insert the link to the dashboard.
Click Save.
Your dashboard has been shared successfully.
Inspect Data
You may view the aggregated and raw data that has been used for each dashboard visual.
Click the Inspect Data button.