Export Power BI to Excel Automatically
Schedule and export Power BI reports and visuals as Excel or CSV.
Export the summary or underlying data into an Excel spreadsheet with formatting.

Add row and column totals to make analysis easier for your recipients.

Export Power BI data from multiple visuals as tabs in an Excel workbook.
Send one Excel attachment per email, or multiple visuals as Excel attachments in one email.
Find out how the comprehensive functions and features of PBRS can solve your BI delivery showstoppers.

Export data from Power BI to Excel with PBRS
Export a Power BI Report, Visual, Table or Matrix to Excel & CSV
Add multiple visuals to one Excel workbook, each visual or table as a tab in the workbook.

Choose to export filtered or unfiltered data (non-hidden data only, of course).

Advanced data export options allow you to choose to export "Summarized Data" or "Underlying Data".

Add Row & Column Totals.

Customize fonts, colors & other styling.

CSV options allow for any delimiter (including comma, space and tab)
Dynamic & Data Driven Power BI Report Exports
With PBRS, you can leverage the power of data to customize and automate your Power BI reports distribution. Here are some of the features that make PBRS stand out:
Dynamic Filters & Data Driven Subscriptions
You can use the data in your database to dynamically populate report filters, destinations, formats, email addresses, body text and more. This way, you can create and deliver personalized Power BI reports to different recipients based on their preferences and needs.
Data Driven Packages
You can combine multiple reports into a single package and send them as attachments in one email. For example, you can create a monthly report pack that includes a summary dashboard, a detailed analysis and a forecast for each department or client. You can also merge multiple Power BI data exports into one Excel file, with each report as a separate tab in the workbook.
File Metadata
You can set the file metadata for your Power BI reports, such as Author, Title, Subject, Tags and so on. This helps you organize and manage your reports more easily and professionally.
Customized HTML Email Body
You can design and format your email body using HTML code to match your corporate theme and culture. You can also use data-driven HTML code to create different themes for different recipients or groups.

PBRS is the ultimate solution for Power BI reports distribution. Try it today and see how it can transform your reporting workflow.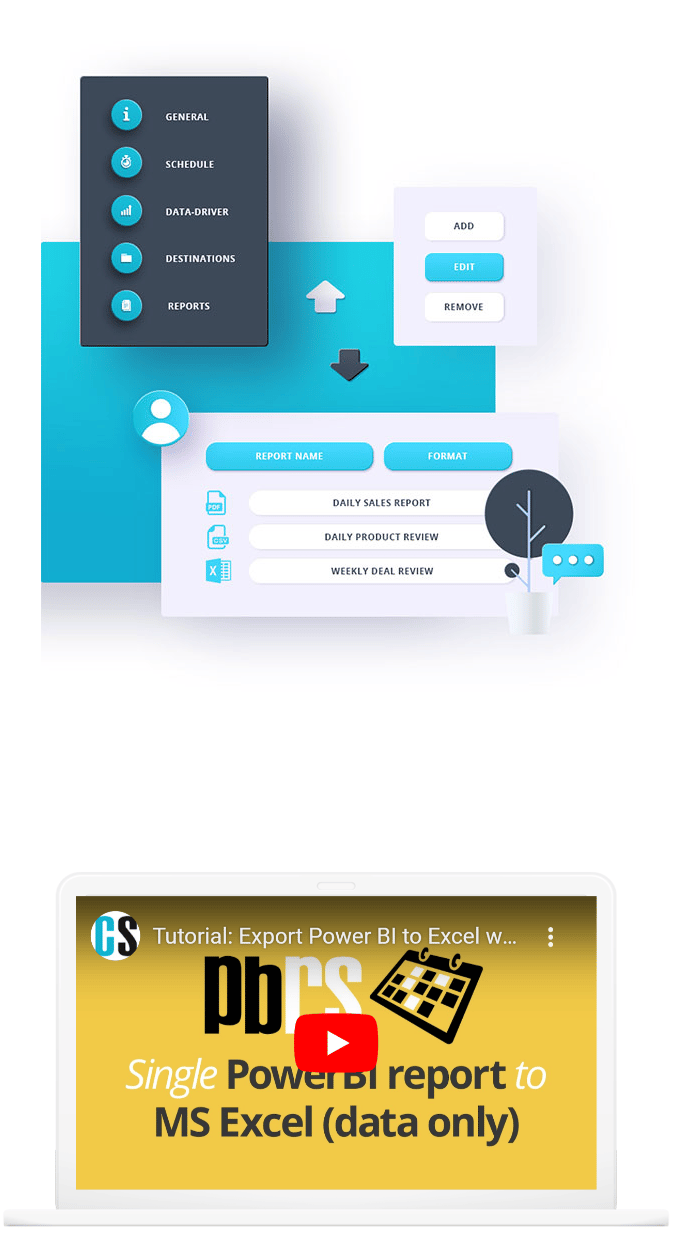 Date-Time or Event Triggers? Have Both!
It's easy to schedule Power BI exports to Excel, and other standard formats like PDF, at specific dates and times or configure them to run on a recurring basis such as hourly, daily, weekly, or monthly. Additionally, you can set up custom frequencies like 4-4-5, every other day, or the third Monday of the month. This flexibility allows you to automate report generation according to your business needs.
PBRS offers event and trigger-based scheduling as standard too, allowing reports to run based on specific events or conditions. For example, you can schedule a report to run when a database record is created, modified, or deleted, when data is received on a port, when an unread email exists in a mailbox, or if a file exists.
The scheduling service runs as a Windows service to enable unattended scheduling. Simply set it & forget it!
An advantage of PBRS is that it doesn't rely on Microsoft's export-to-file API, which means it is not subject to the limitations and constraints of that API. For instance, PBRS can export reports that exceed 50 pages, and you don't need a dedicated capacity Premium license to use it.
PBRS seamlessly integrates with various Power BI environments, including Power BI Service (Pro and PPU), Power BI Report Server (On-Premises), Power BI Premium, and all editions of SQL Server Reporting Services (SSRS). This broad compatibility ensures that you can leverage PBRS across different Power BI deployment scenarios.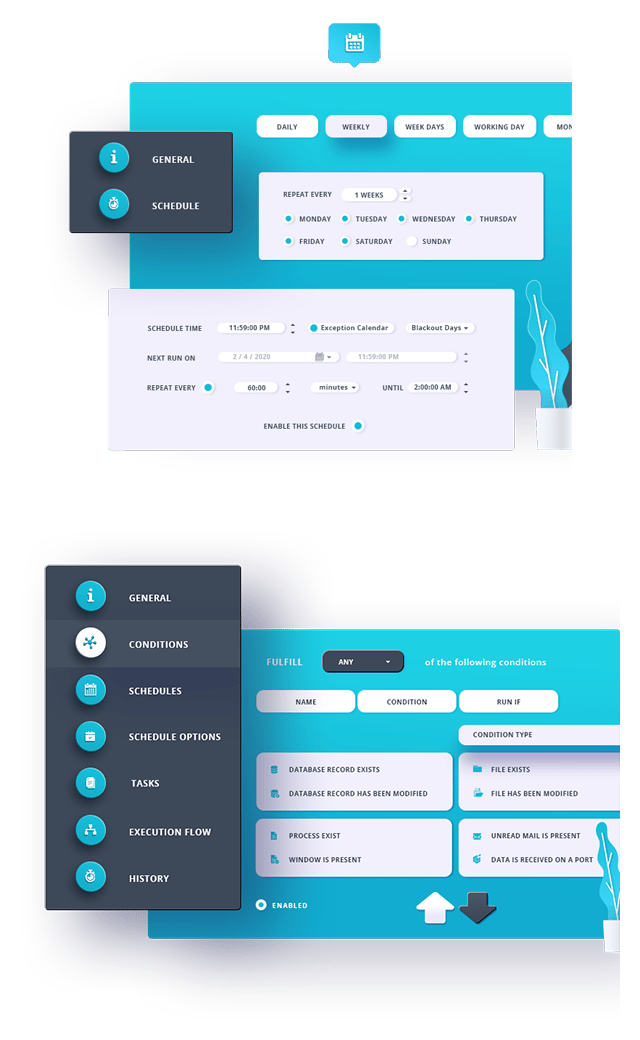 Ready to Install?
Automate your first report today!