PBRS Version 4.0 Build 20210804 has been released. The following enhancements along with software fixes have been included.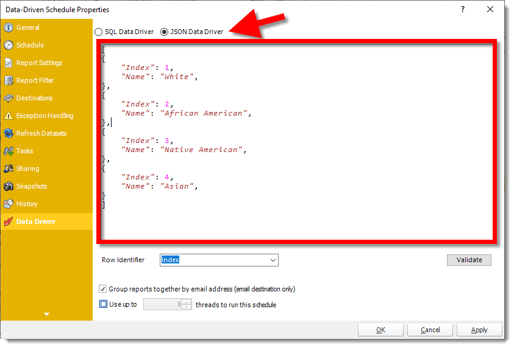 PBRS Version 4.0 Build
20210804
Enhancements
Added the ability to Data-Drive a schedule using a JSON collection.
Added the ability to view the API execution log in System Monitor.
Added the ability to specify if a Run Schedule failure will fail the entire schedule or not.
Added an 'Update Power BI Embed URLs every x days' check box within Options so that URLs are always up to date.
Issues Resolved
Unable to run a Data Driven Automation Schedule run as a BEFORE task on a Data Driven Schedule.
The query timeout settings default back to 30 seconds when using the blank report check method in Exception Handling.
html format inserts have spaces between the characters in Exception Handling emails.
Event-based schedules do not appear in the System Monitor when running.
Custom Task: Delete file extensions are case-sensitive.
Custom Task: Export Data from Database query Time out always restores to default.
Excel Data Only Exports are not displaying the customized Tab Name value.


Thank you all for your feedback. The next PBRS release is scheduled for September 2021.