Benefits of Reporting in SSRS
There are seven main benefits of SSRS for reporting:
Easy access to report formats: The reports can be accessed easily from within Microsoft Dynamics GP. There is also a one click access from the user's personalized 'My Reports' list of frequently used formats. In terms of generating the report, SSRS supports a variety of formats including PDF or Excel. Additional formats can be used via plugins or an external tool such as PBRS.

Drill down action: The user can quickly access essential information with the ability to drill down within the reports.

Chart options: SQL reporting services offer various report layout options including pie chart, line chart and bar chart capabilities. These can be used to highlight key information and enhance business presentations.

Customized Filtering: With SQL server reporting services the users can filter report data using dynamic parameters.

Flexible report views: SQL reporting services allow for a collapsible report view to expand sections, reducing complex reports to manageable proportions.

Sub-reports: Users can create sub reports with a main report and also the main report to one or more sub reports through a set of parameters.

Table View: This report layout option quickly presents the data in a table format for better viewing and report distribution across different units of a business.
Many will find that SSRS has a bit steeper of a learning curve, especially for users that transitioning from Crystal Reports. However the benefits of a unified data warehouse and reporting solution add a greater amount of flexibility. Eventually you will have the need to expand SSRS' feature set by relying on plugins and external tools to add more report formats, distribution methods, and advanced scheduling. If you are beginning to transition to SQL Server as your reporting system, with a bit of learning, you will not be disappointed!
Drawbacks of Reporting in SSRS
Steep learning curve that requires users to know SQL and SSRS-specific functions. Without a highly technical person on your team or an IT department, using SSRS to its full potential will be largely out of reach.
Somewhat limited ability to display data graphically. Although, Microsoft has recently updated this in the latest release and is now incorporating SSRS into Power BI in order to marry the interactive graphical display of Power BI reports with the paginated reports found in SSRS.
SSRS means you have another server to maintain. Microsoft SSRS requires a Windows server hosting environment, which adds to the complexity of IT support.
Limited automation or mass reporting features. SSRS was built more as a self-service reporting tool — not a report automation tool. While the Enterprise edition does have mass reporting capabilities, the feature set is small in comparison to what other tools are able to accomplish with SSRS.
For example, even with the Enterprise addition, there are limitations:
No event-based scheduling
No way to password protect exported reports
Cannot automatically combine Excel workbooks and PDFs
These limitations dramatically change how easily you can distribute reports across your organization. For example, what if you needed to send reports based on specific events e.g. database record has changed, new order has been created, unread email has been received, and have these reports sent directly to Printer, DropBox, Fax, Slack and FTP? What if you need to send certain reports to a specific set of users via Google Sheets? What if you need to email 50 Excel based reports, but need the Workbooks combined instead of emailed separately? This cannot be done, even in Enterprise.
And these features do not even exist in Standard.
Fortunately, PBRS - ChristianSteven's tool for automating Power BI & SSRS reports - can accomplish all this and more, even with a Standard SSRS license. For a full list of features and to download your free 30-day trial:
Get Features PDFStart Free Trial
Costs increase with number of users. While SSRS is a great product and does a great job streamlining data across organizations, the biggest reality is the enormous investment it requires to realize its full potential.
Microsoft uses two pricing models for SSRS: Standard and Enterprise.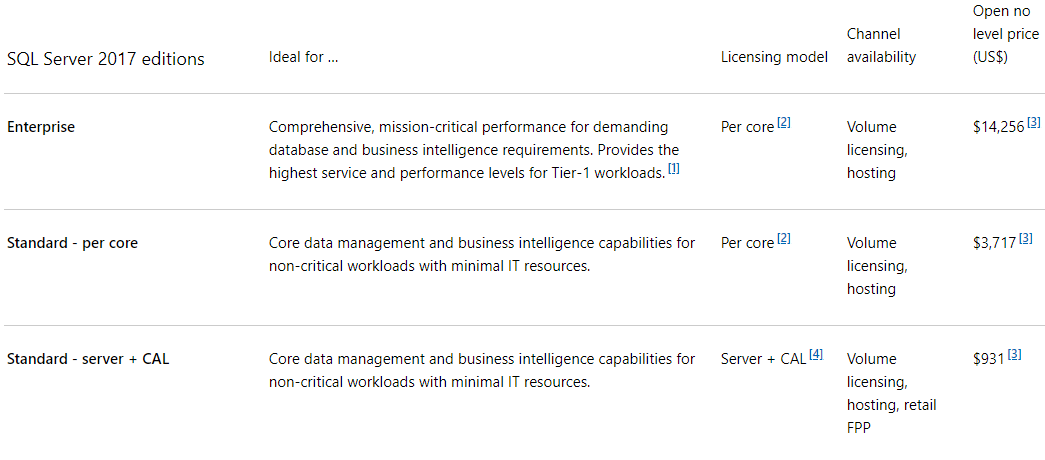 As you can see, the listed price for Enterprise edition starts at $14,256 — but is this the actual price you pay?
If you drill into the fine print, you'll see that the costs are actually quite a bit more.
As the fine print states, "Editions sold in the per-core licensing model are sold as 2 core packs." Your $14,256 investment is actually a minimum of $28,512 per year in licensing costs — assuming your server has only 2 cores.
If you refer to Microsoft's SQL Server 2017 licensing guide, you'll see that installing on a server will more than likely require at least four licenses.
This brings your yearly costs from $28,512 to $57,024.
Of course, you can skip these costs and opt for the per user license, but keep in mind that the Standard Edition is missing nearly all of the features that allow some level of automation and completely eliminates data-driven subscriptions.
How to Automate Report Distribution in SSRS
Do not let the costs from persuading you from seeing SSRS as a worthwhile reporting tool for your organizational needs. Its ability to connect disparate data sources and effectively compile and send data to the right users at the right time give it enormous value to CEOs and stakeholders with a need to have absolute control over the dissemination of data across their company.
There is a straightforward solution to minimizing the costs and dramatically expanding the features and functionality of SSRS, even if your organization only runs SSRS Standard Edition. If your organization already uses Enterprise, you can still easily expand the functionality to every user in your organization.
Get Features PDFStart Free Trial
PBRS by ChristianSteven Software is a dynamic, flexible, function-rich and intuitive automation tool for scheduling, exporting, distributing and delivering your Microsoft® SQL Server Reporting Services (SSRS) Reports to unlimited users.
The need to deliver reports in the best format for your audience is critical to streamlining data consumption and putting the right information in front of the right people at the right time. Organizations can quickly realize the benefits of PBRS by automating repetitive reporting tasks — allowing administrators to create and distribute reports without error and without the costly support time.
PBRS is able to send scheduled reports by:
Printer
Fax
Folder
FTP
SMS
DropBox
Slack
Google Sheets
SharePoint
Email
The available formats include Excel, Word, PDF, Txt, CSV, PNG and more.
PBRS is the leader in SSRS automation and report delivery, containing powerful system, event triggered, data-driven and business process workflow functions which will make an instant impact on the efficiency of your business.
Over 1,000 companies in more than 46 countries trust ChristianSteven Software for their report automation needs. Download your free trial of PBRS today.