4 Pretty Amazing Predictions Of Business Intelligence For 2017
by Christian Ofori-Boateng on Dec 4, 2016 8:30:00 AM
Business intelligence continues to advance the technology of every industry. This year, we saw advanced analytics become more sophisticated and cloud data, as well as cloud analytics, evolve into a critical tool for organizations to rely on. What can we expect from business intelligence in 2017?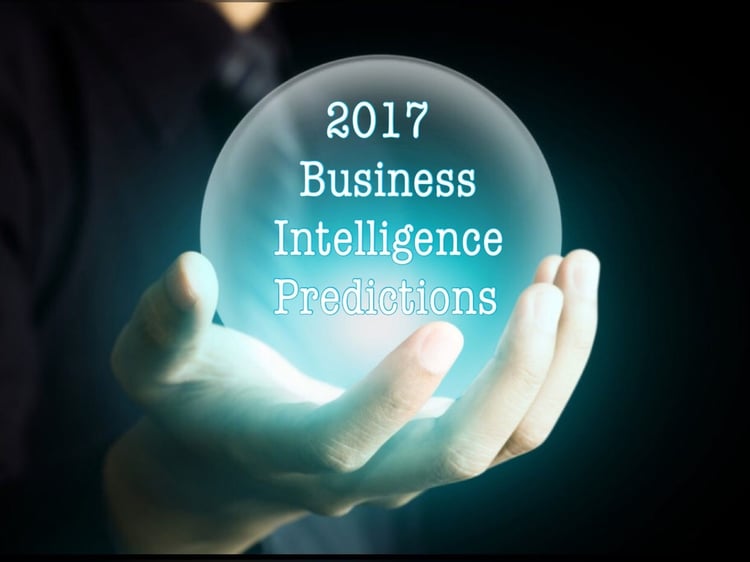 Data Interaction
Christian Ofori-Boateng, CEO of ChristianSteven Software, states, "BI Consumers don't care how the data got to them or where it came from. They care about the analysis and how can they use it to enhance their lives through better decision-making. Now, they access real-time, analyzed information on mobile devices and, having done that, they want to be able to interact with the data – drill down through the bars of a graph or the sectors of a pie chart, for example. Only a few companies are enabling this. That ability to drill down in order to improve decision accuracy is key and that is where I think the leap forward in the future is going to be."
Self-Service Analytical Software
Self-Service business intelligence was a big trend in 2016 and will continue to grow in 2017. Allowing users to make more data-driven decisions without having to wait for the IT department has proven to be a key tool that helps speed up the process of data discovery and make findings more relevant. Business intelligence professionals or IT staffers still need to be included when integrating self-service tools because users may not understand data management or how to use the data.
Data Visualization
Once upon a time, a detailed graphic made via PowerPoint was a successful visualization of data. Today, data visualization is available in a wealth of tools allowing users to create fantastic animations, 3D pictures, and interactive images. Business intelligence solution offers a wide variety of data collection methods enabling data visualizers to access very sophisticated and complex data. This, in turn, allows the data visualization to be a much better value for everyone. As we move into 2017, data visualization will only continue to grow.
Borderless Enterprise
Users need and want access to their data "whenever" and "wherever." Fifteen years ago, data was kept in-house due to compliance reasons and a less mobile-centric world. Today, as Mr. Ofori-Boateng states, "In the mobile world – especially with BYOD (Bring Your Own Device) on the rise - organizations need to be able to serve the information to authorized users, irrespective of location and device, and this, the "borderless enterprise" is what we focus on today." In 2017, the whenever, wherever data access will continue to rise as more organizations grasp the BYOD concept.
A Few Last Words
As 2016 draws to a close, and we move into the new year, these are likely the business intelligence trends that will dominate 2017. Only time will tell, but we are certainly looking forward to it! Ready to start your business intelligence journey?