IntelliFront BI™: The Future of Business Intelligence Part 1 of 2
by Christian Ofori-Boateng on May 15, 2016 8:30:00 AM
Profound changes in the Business Intelligence industry and in the marketplace compelled us to take a hard look at how we should evolve to continue delivering superior value to our customers. This was our commitment when we started the company nearly fifteen years ago, and it remains a bedrock principle for us today. We recently decided that it's a good time to share our thinking publicly. In this two part blog I will discuss the following topics: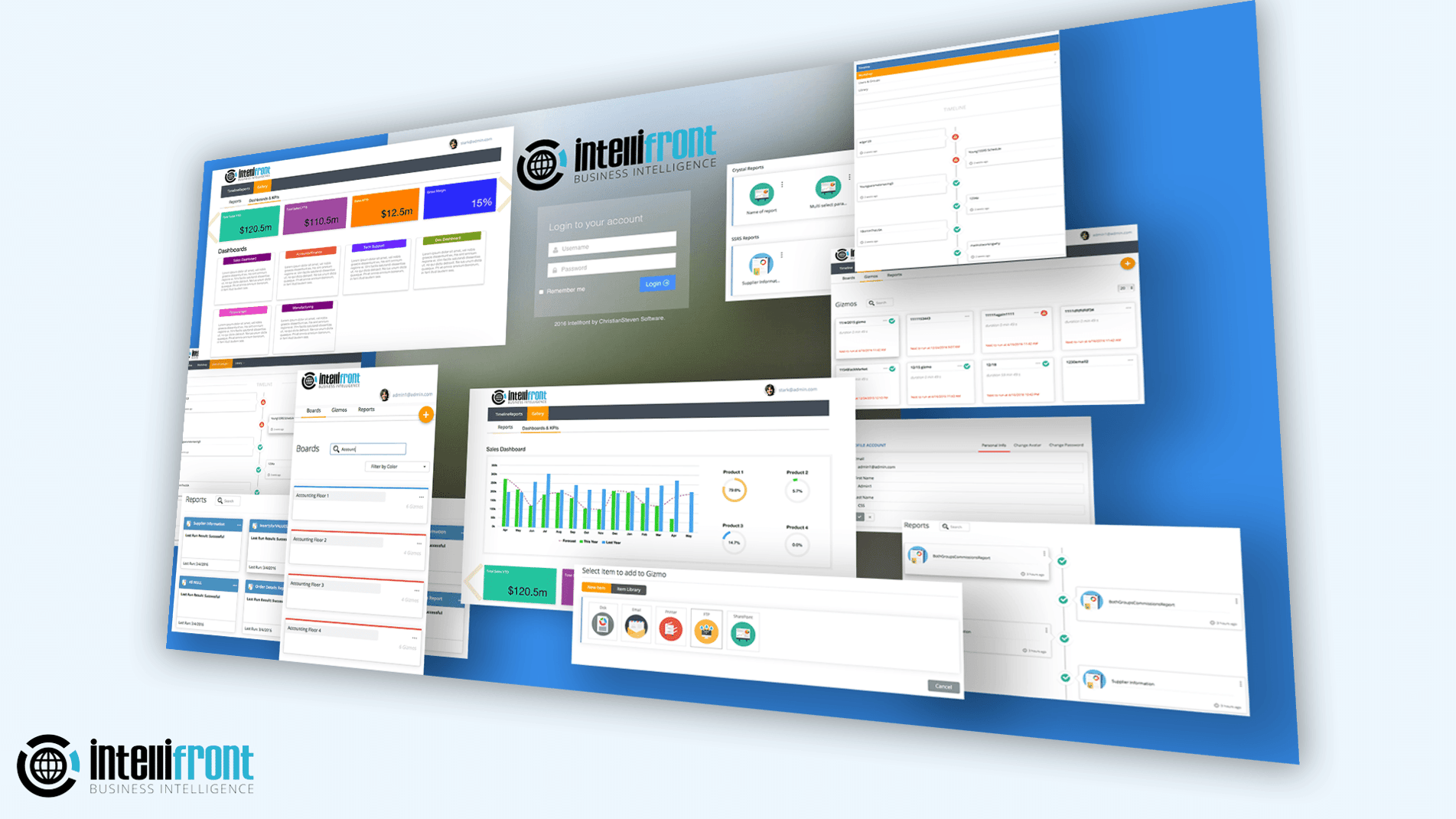 In Part 1 I will focus on the rationale for IntelliFront BI™, including the following topics:
Market Dynamics
CIO Top Priorities part 1
In Part 2 of the blog I will discuss:
CIO Top Priorities part 2
A Bright Future
Introducing IntelliFront BI™
BI Market Dynamics
The most important changes (at least for us) have been with our friends at Microsoft and the evolution of the SQL Server and Crystal Report product lines, one of their most successful and profitable ventures. A few short years ago, SQL Server and Crystal Repot companion products such as SQL Server Reporting Services (SSRS) were sold "a la carte". Customers would choose from a complex and sometimes confusing array of products.
Today, SQL Server and Crystal Reports are sold as one of three all-inclusive bundles: Standard, Business Intelligence, and Enterprise, plus a smattering of specialized offerings such as Azure-based SaaS products. It's now very clear which capabilities each bundle includes; and like everything else in our universe, you get more when you pay more. Enterprise is truly a superlative offering- there's probably nothing else your company would ever need. But can you afford it? If not, can you even afford the lesser "Business Intelligence" bundle, also a worthy offering? From our perspective, the costs associated with the licensing schemes are truly jaw-dropping.
Regardless the cost considerations, most prognosticators believe that SQL Server and Crystal Report products will continue to be very successful for years to come. We agree.
In contrast, Crystal Reports - an indispensable reporting facility in the IT industry for decades - has not been evolving in a significant way. But maybe it doesn't need to. It's focused on doing certain things really, really well, as its legions of devoted loyalist will attest. Crystal Reports is hard to replace, and in general, customers don't want to fix what isn't broken. Equally important: It doesn't break the bank when you use it.
This means Crystal Reports will be around for a very long time and will continue to be a staple in many IT shops. But is also means fewer opportunities for us to add value and help SAP extend Crystal Reports beyond its traditional market segments.
What else is interesting for us? Mobile platforms, real-time or on-demand Business Intelligence and process automation float to the top of the list. Those areas certainly aren't new, but the priorities certainly reflect an accelerating environment that rewards speed and the reduction of business process friction. Some of the today's requirements could not have been imagined a decade ago. "Only the strong survive" is evolving gradually to "only the fastest survive". We here at ChristianSteven Software have always understood this and will continue to make client businesses operate faster and more efficiently.
As part of our strategic planning process, we spent a lot of time talking to our customers and other CIOs to better understand what's on their minds. More than anything else, their concerns will drive our future direction.
CIO Top Priorities Part 1
CIOs are accountable for managing all kinds of IT-related risks pertaining to business continuity and limiting liability- it's not just about fending off hackers, protecting privacy and other topics that enthrall the media.
Risk
If Business Intelligence distribution is the lifeblood of an enterprise, its absence is the equivalent of strangulation. It's not just about producing the right stuff; it's about getting that stuff to the right people at the right time. And the right person may very well be someone outside the boundaries of your enterprise with whom you have contractual obligations.
ChristianSteven Software's product have always been designed from the ground up to mitigate business continuity risks. Yet our customers ask us frequently, "What will you guys do in the future mitigate risk?" We need and want to do more in this area.
Security
Security is daily front page news. Our customers tell us repeatedly how important this is, so our leadership team thinks about it constantly. We understand there is no such thing as perfect security because that depends on perfect human behavior. But we have always provided facilities and mechanisms to maintain privacy, guarantee content integrity and ensure the authenticity of recipients.
We will always continue to add new capabilities to strengthen security. The IT world is evolving quickly, and we will avail ourselves of new technologies and methodologies.
Equally important: Our professional services consultants are trained to point out security gaps and weak links in client environments during consulting engagements. We don't make money by doing this, but it's the right thing to do. We'll continue to upgrade relevant security skills and knowledge for our consultants.
ROI
ROI is a tricky subject, although it's a well-understood concept. Almost every customer talks to us about this, even after they purchase products or services from us.
We've come to understand that the approach to investment decisions vary widely and often depends on company size, sophistication, and culture. At one end of the spectrum is a "show me the numbers" approach based on quantifiable net gains within a fixed- and sometimes arbitrary- time period (e.g. one year). At the other end of the spectrum are enterprises that use algorithms such as specialized rates of return, multiple payback periods, opportunity costs and the time value of money.
Sometimes ROI involves factors that are less tangible are harder to measure. Although counterintuitive, we've learned that it's not always about money.
We realized we need to categorize ROI analysis styles to have more meaningful conversations with prospective customers. Some organizations value all quadrants of this matrix. Others focus on only one of those quadrants.
Although a majority of our customers do experience very short (months) payback times after an implementation, we need to do a better job of using our expertise to recognize prevalent client values and tailor our analyses for their needs.
I can't wait to hear what you think about BI market dynamics and the first part of the CIO's priorities. If you have any questions or want to add to the article, write in the section below.
Are you a CIO, or know a CIO, who has been wrestling with the future of Business Intelligence? Share your experiences below.
Stay tuned for Part 2 of this blog series where I will talk a bit more about CIOs top priorities. I will also dive into IntelliFront BI™ and how it addresses the CIOs needs.
No Comments Yet
Let us know what you think