How to Get Started Using PBRS for Power BI
by Christian Ofori-Boateng on Jun 28, 2021 11:31:00 AM
When implemented the right way, PBRS can be a powerful way to leverage and automate the insights you get from your various data sources. This guide will walk you through the process of getting started with PBRS.
Let's begin with a clarification: Getting started with PBRS is actually a two-fold process. First, you or a team member should download and implement Power BI and/or Service, ideally both. Then, the same team member can download the ChristianSteven Power BI Report Scheduler (PBRS).
The first step is possible without the second. They don't have to immediately follow each other; feel free to spend some time on Power BI to familiarize yourself with its opportunities. That leads us to a quick discussion of Power BI, in both its Desktop and Service environments.

What is Power BI?
According to Microsoft, Power BI is a platform designed to turn raw data into actionable insights. It's actually more than a single piece of software; instead, it includes a variety of services all working together to accomplish that goal. While the information inputs may be unstructured and disparate, the outputs will be visually, easy to understand, and engaging.
The central promise of Power BI is simple: turn all those data inputs that are so difficult to get a handle of, from Excel files to SQL databases, into reports that show you exactly what matters for important business decisions and share those insights with others across the organization.
To get you to that point, Power BI relies on two systems it calls Desktop and Service. So let's get into those.
Introducing Power BI Desktop
As its name suggests, Microsoft defines Power BI Desktop as an application designed to live on your computer rather than the cloud. The same data to input conversions happen on your local server, turning data inputs into comprehensive visualizations and models that allow for easier, more actionable takeaways.
With Power BI Desktop, it's simple to create reports out of this solution that ultimately helps stakeholders across the business understand your data analysis and make decisions based on its insights.
Introducing Power BI Service
Unlike the desktop application, Power BI Service is a cloud application that doesn't need to be installed on your local computer. It's a way for your BI solution to connect to important online data sources, which you can use to create a dashboard that allows for more insights and problem-solving. It's a SaaS solution that tends to be more real-time due to its cloud nature.
How Do You Choose Between Power BI Desktop and Service?
If the first step in getting started with PBRS is to implement Power BI, you'll need to know whether to go with the Desktop or Service platform. But here's an option: why not both?
At least that's the Microsoft recommendation, and for good reason. The two options don't replace but build on each other. The Venn Diagram on the Microsoft website shows the differences and overlap of the two pieces: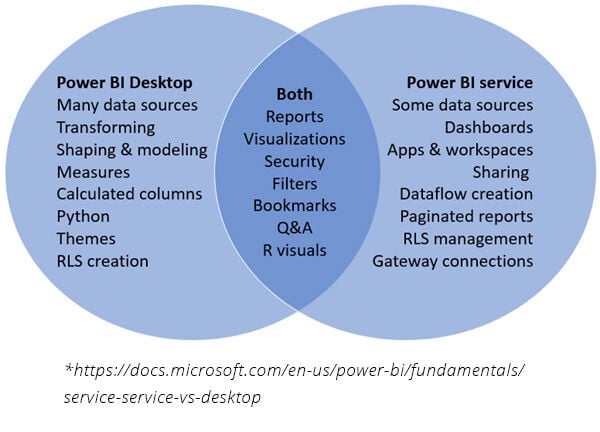 Use Power BI Desktop for your data analysis needs. This is where you build your comprehensive data models, pulling from a wide variety of disparate sources and designing comprehensive reports in the process.
Power BI Service builds on the models you build, focusing more on the collaboration and visualization pieces within the process. As such, it's perfect for distribution of the reports that you've built in the desktop solution.
Now, the Fun Part: Getting Started with Power BI Report Scheduler (PBRS)
That two-step process of getting your automated reporting in place? The difficult pieces are out of the way with the implementation of Power BI. Now, the fun begins. PBRS is how you can automate your data reports to be delivered in exactly the right format, and at the right time, for every stakeholder needing to see it and make decisions from it.
At its core, PBRS is an intuitive tool that doesn't require much working-in. It can filter, distribute, and deliver your SSRS and Power BI reports for both cloud-based and on-premise platforms.
A number of core features can help you make getting the right information into the right hands at the right time with less of a hassle:
Information can be sent as single reports or packages, with automation based on anything from specific dates to trigger events based on database field changes.
Output formats range from standard files like PDF and XLS to HTML, raster images, and more.
SSRS and BI reports can be sent straight to print, emailed, or integrate into your SharePoint or other cloud storage solutions.
Custom tasks allow for greater control over the workflow that leads to automated reports sent out to your stakeholders.
A variety of administrative options allow your reporting automation to easily scale with growing business or stakeholder needs.


Naturally, this type of comprehensive automation requires some significant set-up strategy and execution before it begins to save time. The intuitiveness of PBRS minimizes that process. Moreover, the subscription fee comes with free technical support, training, and setup to get your business up and running quickly and efficiently.
In other words, getting started with PBRS is as simple as implementing Power BI, then subscription to our scheduler. We'll help you with all the other steps needed to get up and running.
Ready to start your implementation process? Learn more about the Power BI Report Scheduler, and start your free 30-day demo today.