How the BI Continuum Helps the CIO Address Operational Efficiency. Part 1 of 3
by Christian Ofori-Boateng on Feb 16, 2018 12:00:00 AM
The BI Continuum™ is a framework used by ChristianSteven Software to describe audiences and their respective needs that a CIO must address as part of an enterprise BI strategy. It's a spectrum of dis-tribution and format possibilities ranging from "push" (from central sources) at one end to "pull" (by end-users) at the opposite end.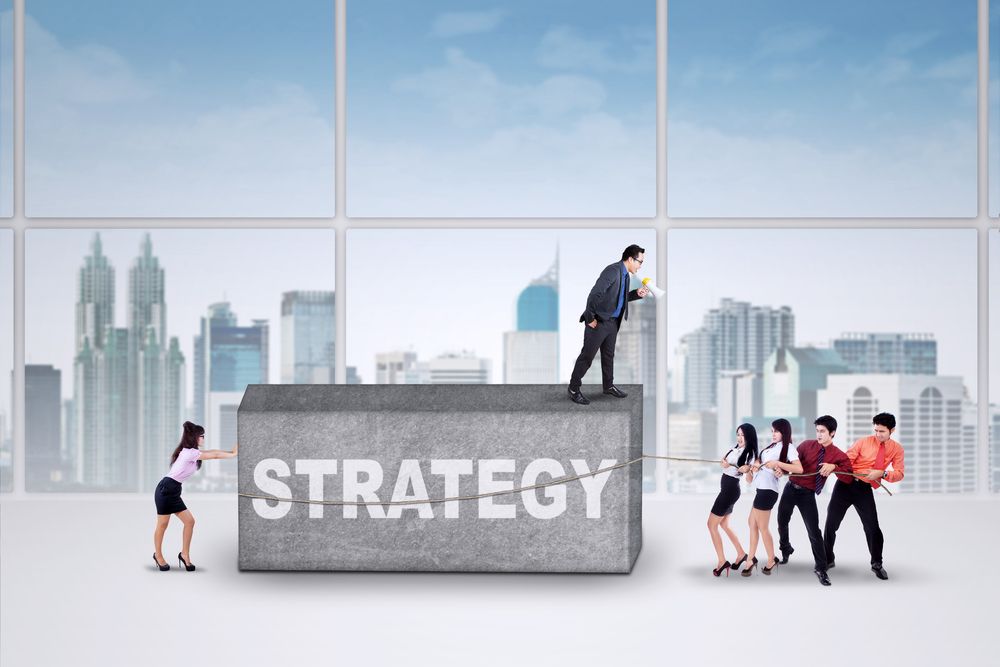 In this three part blog I will discuss these topics:
What is the goal of Business Intelligence?

What keeps a CIO up at night? How does this relate to you?

Who are the audiences for BI and what do they need?

Introduce the BI Continuum- how is it mapped to different audiences?

What are the 8 important characteristics of the

BI platform

?

How do you get started or advance your journey?
Before we get started let's understand what is meant by Business Intelligence. I choose to use a definition from CIO magazine which states: "Business Intelligence, or BI, is an umbrella term that refers to a variety of software applications used to analyze an organization's raw data. BI as a discipline is made up of several related activities, including data mining, online analytical processing, querying and reporting."
What is the goal of Business Intelligence?
Now that we have defined what Business Intelligence is, let's discuss how business intelligence can help you address different needs and audiences.
At the Tactical level, your Sales Representatives will review a customer's most recent transactions. Here the focus is on the end user and your customer.
At the Operational level, your VP of Sales can review all sales territories across the US and decide how to define or redefine each territory based on geography, industry, number of accounts, product line or another segmentation approach.
Last but not least, at the Strategic level, your Management Team can review how your company can provide a coverage model worldwide. Here, as an example, you may deploy a direct sales strategy in the US and Canada and a partner-coverage in EMEA, Asia Pac and South America.
Companies use BI to improve decision making, cut costs and identify new business opportunities. BI is more than just corporate reporting and more than a set of tools to coax data out of enterprise systems. CIOs use BI to identify inefficient business processes that are ripe for re-engineering.
What keeps the CIO up at night?
A CIO's greatest challenge is operational efficiency for their enterprise - both for the IT staff and for each target audience. From our market survey with over 100 enterprise CIOs, they told us that
The CIO's IT team wastes too much time performing manual BI processes to bring together information for reporting, analysis and insight
IT cannot keep up with the current BI requests posed by users inside and outside of the enterprise-employees, partners and customer
It is difficult to get the right information so that the enterprise can make the right strategic and operational decisions.
It can be challenging to have the right timely information to remain compliant and adhere to regulations.
The CIO feels tremendous pressure to ensure that the organization is not making investments in technology the will become obsolete.
Who are the audiences for BI and what do they need?
BI can help you address different audiences. There are three primary groups that need BI: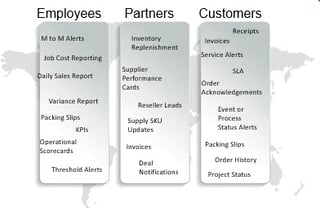 Employees. At the Management or Board level, BI is used to make strategic decisions. At the Operational level BI will be used to make better operational decisions including re-engineering or improving business processes. At the individual level BI will be used to provide insight and vital information for that role or function in the enterprise. These are often executive KPIs and scorecards, regional and individual sales reports.
Partners may include suppliers or commercial partners such as resellers. An example of the use of BI would be automatically distributing the latest product codes to vendors weekly so that they can invoice using the most up to date SKU numbers. Often there are thousands of SKUs so distributing manually would be impractical. Another example could be an extraction of inventory data that is sent to suppliers daily, so that they can order additional suppliers if inventory runs low.
Customers are frequent consumers of BI. Customers receive invoices, critical alerts, notifications, and dashboards. In some cases customers log into their vendor's portal to view a dashboard of their service status, or view previous orders. Other business customers use BI to track the progress of vendor's projects. Some customer BI happens in the back end, such as processing orders or printing off a packing slip to go into their order boxes.
To learn more about the BI Continuum and receive your own downloadable PDF version of the BI Continuum Infographic, please click the button below.