Need to break up your Crystal Reports and send them to unique email addresses? Whether invoices need to be sent to customers, or sales reports need to be delivered sales people, there a couple of ways you can burst crystal reports by email. Though there are a number of Crystal Report bursting methods, three methods come to mind. If you are distributing these reports in PDF, you could use a PDF tool to break up your report after it has been run, and deliver unique PDFs to an email address. Another method is the bursting feature found in Crystal Reports schedulers. Finally there is the Data Driven publishing method.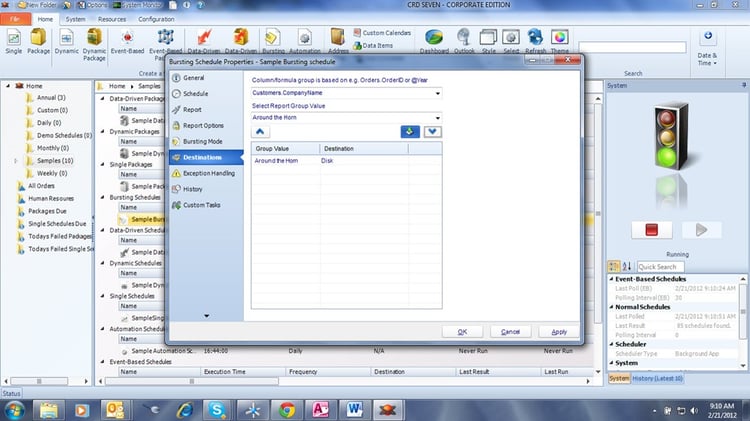 Bursting With A PDF Tool
Using a PDF tool, you can break up crystal reports into unique files, and send the reports to email addresses. In your Crystal Report, each unique report will need to have its own page in the report. In the report header or footer, a unique email address, or addresses will need to be placed. This way when the report is generated, each report page will have its own email address displayed. Using the PDF tool, you can break up the report into separate pages using the displayed email address. The reports can then be sent via email using a cleverly written batch file. There are some major issues with this method however. There is no error handling and tracking. Displaying an email address in an awkward location can make the report look atheistically displeasing. Though this is certainly the least expensive method, its disjointed nature can end up costing the business far more in terms of headaches.
Bursting Report Groups
If you are using a Crystal Reports Scheduler such as CRD, you can use their native bursting capabilities to break up the Crystal Report, bursting Crystal Reports Groups and deliver each group to unique email addresses. Your Crystal Report will need to have its unique values listed in "Group Header 1" of your Crystal report. Using this location, the scheduling tool will burst crystal reports into separate files in any format you desire. Using fields found within your Crystal Reports, The report is then automatically sent via email to the desired users. Moreover the individual group values can be sent to a variety of destinations such as SharePoint, or an FTP site. This method is much more attractive as it is handled completely within a single application. Also many scheduling tools have detailed auditing and tracking to ensure reports are running properly. You may find that your report may need some adjustment in order to accommodate this type of Crystal Report bursting.
Data-Driven Publishing
The final method uses Data-Driven automation. Rather than using values in your report or your report output to determine how the report will be distributed, Data Driven publishing uses information from your database. Recipient, destination, formatting and more can all be automated by simply indicating so within your database.
Different reporting tools perform automation publishing differently. Some use data from your active directory listing to distribute reports, while others only allow specific Client Access Licenses to receive reports. Tools such as CRD only rely on a database to determine how reports are bursted and distributed. Either way, Data Driven Crystal Report bursting can offer a much more flexible way to burst Crystal Reports.
All of the methods discussed have the ability to burst crystal reports by email automatically, however they achieve this goal by different means. Probably the best methods involve a dedicated report scheduling tool that can track both emails and the reports they contain. Choosing the right tool and method for you, depends largely on your reporting volume, security needs, and preferences.